William Wang
SAIC: Distinguished Scholarship
SVA: Merit Scholarship
MICA: Merit Scholarship
OTIS: Presidential Award ...etc.

"In my opinion, this direction the art world is approaching is, in fact, directionless and would only benefit the people who know what they want to achieve but confuse those who do not realize it. Thus, this is the reason AMAI has been the best place for me to develop my artworks and portfolios and learn the insights of art colleges. With the help and support of the teachers like Justin and Joseph, I was offered the opportunity to learn how to create art, from drawing still-life to three-dimensional works, including aspects such as sculptures and ceramics. Nevertheless, the goal was to help the students acquire enough skills the compose their ideas and concepts in the form of visual art. Finally, given the professional experiences of the instructors, students' works are constantly critiqued from a traditional perspective to help the students to make their works more impactful and unique. Hence, this blend of professionalism and freedom of expression led me to acceptance from my dream college. Finally, I would like to exclaim that this is the place for the determined students who are willing to study art and take this path in the future."
Alicia Gan
Yale University
Art Supplement Program
"I always look forward to coming to the studio to learn from Justin. From water-color painting to figure drawing, the depth and breadth of his knowledge is incredible, and I was able to become a much better well rounded artist because of him. His enthusiasm makes brainstorming artwork concepts with him come naturally, and he always brings unique ideas that take a good concept to the next level. Through his focused 1:1 instruction, I was also able to gain the technical skills to make my ideas a reality. From the instruction, to facilities, to art supplies, to people, I wouldn't trade my experience at AMAi for anything. It was truly an amazing learning experience and made me into a confident artist."
Jeong-woo Chang
Pratt, Parsons, SAIC, SVA, OTIS ...etc.
Scholarship (Presidential Merit)

"I have wandered to look for the perfect art studio for the past few years. Most of them were very energy draining and dull; the same medium every time, copying off some magazine. Going to those art studios, I started to lose interest in art. With the last hope to find the perfect art studio to be great nourishment for my growth as an artist, I came to AMAI. AMAI was different. Justin, the president of AMAI, taught me from basic of the basics to high-level techniques and theories in art. Creating a portfolio, I had great fun experimenting with many different mediums. In the process, Justin would critique my art to make the piece look even better without touching on what I was trying to express. Also, with wonderful faculties from different areas of study in art, Joseph and Mindy, who later joined, helped me create a satisfying portfolio that got me high as 60% scholarships from top art schools. Experience at AMAI is priceless, and I recommend AMAI for any of those who have an interest in art and need a great mentor to guide your way to admission to top art schools."
Ashley Woo
Rhode Island School of Design: (Highest Acceptance Honors)

"In the few years that I have been a student of Justin Kim, I have learned so much starting from the foundation such as the technicality of lines to becoming able to draw a full human figure. He is a great instructor who always encourages his students to find unconventional ways to think about and create art. This is something that I really appreciated as it taught me to become more open in the ways I approached art which is something that I had always struggled with. Overall, I've really enjoyed learning under Justin as his own dedication to art constantly inspires me to want to strive for more."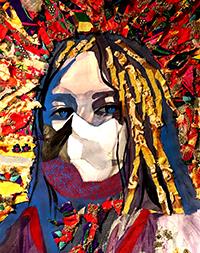 Marwah Naveed
Parsons: Scholarship(Highest Acceptance Honors)
OTIS: Scholarship(Highest Acceptance Honors)

"Once I started to attend AMAi Art Class, I loved it so much. Preparing Art Portfolio under the guidance of Professor Justin Kim is so fun and inspiring. Every time I finished my artwork, it came out so soon that I almost felt without even realizing it. Also, every artwork that I finished was perfectly satisfying. Not only could I prepare my art portfolios at a high-quality level, coming here to study Art feels like a second home all of the time. I would recommend AMAi Art Class for anyone who needs to prepare a high-quality Art Portfolio or interested in learning Art!"
Julia Min
SAIC: creative honors scholarship
Otis: presidential scholarship(Highest Acceptance Honors)
Art Center: ArtCenter scholarship
LCAD: merit scholarship ...etc.

"First and foremost, I would like to thank my family for supporting me through the toughest times and helping me find the motivation and reason to do art. So from the bottom of my heart, thank you mom, dad, Judy, and Jenna. When I first came to AMAI in 2018, I learned about art in different perspectives. Instructor Justin Kim took great care of me and took the time to teach me the basic foundations. Because of that, I was able to greatly improve each and every aspects of my artistic abilities which I will forever be thankful for. Despite his busy schedule, he would always come to class with great enthusiasm and positive vibes which helped create a positive environment for me to learn in. I would also like to give big thanks to Sam, Joseph, and David teacher for their guide with great inspiration. Overall, my experience at AMAI has been motivating and exciting and with the help of all the teachers here and support from my family, I was able to exceed more than I imagined. As a student of AMAI, if you are serious about learning art, I recommend this studio."
Moira Ke
Otis: Presidential Scholarship(Highest Acceptance Honors)
CPP, CSULA, CSUF ...etc.

"It was a privilege to be a student of Justin Kim. He is not only knowledgeable and keen on art, but also accepts challenges and creates miracles. I met Justin Kim pretty late for college applications, but he didn't give up on me. In the following four months, with our joint efforts, I not only finished my work collection excellently, but also achieved from ignorance to perfection in figure drawing. The result of our efforts was also affirmed by Otis College--I was admitted as an honor student and won a high scholarship. To this end, I recommend the AMAi Art Institute to all students who want to improve their Art skills, create a perfect portfolio of works, and are eager to be admitted to the desired academy of fine arts."
Jessie Zhang
SAIC: Scholarship
Otis: Scholarship

"I really appreciate the time I spent in AMAI with professor Justin Kim and it was a pleasure to learn art from him. He guides me through the process of how to make good quality Art Portfolios and taught me in depth with how to do different types of art. The sense of passion and experiences within Justin Kim also made me feel more motivated to do art. I think I improved my foundation skills from AMAI and the improvements will benefits me in the future."
Danny Yi
Otis College Art and Design
Scholarship
"I have learned so many different levels and skills of art such as figure drawing, shading, painting, etc. because of learning with professor Justin Kim. At first I was very clueless about art in general, but because I attended Justin's classes, I was able to get better through learning and practice. The AMAI staff as a whole are very helpful and only want to produce the best portfolio for their students."
Ashley Zeng
Princeton University
Art Supplement Program
" I started studying with AMAi at the beginning of my junior year, and was able to learn the basics of art and complete my portfolio supplement in a little over a year. I improved tremendously with the guidance of Justin, Sam, and Joseph. In addition to detailed instructions for drawing techniques, Justin taught me to push my creative boundaries. When I first started learning from him, I only knew how to copy from a reference photo and was afraid to deviate from my comfort zone. However, Justin understood my strengths and weaknesses and challenged me to try new things with each piece. He helped me realize my own capabilities that I never knew I had. I am so grateful for my experience at AMAi. Thanks to the enthusiasm and encouragement of the teachers, I've not only been accepted to my dream school, but also developed a passion for art that I'll carry with me for the rest of my life."
Elissa Kim
Columbia University
Art Supplement Program
"Although I do not intend to be an art major, I joined AMAi to showcase my talent in visual arts for college admissions. Justin is a brilliant teacher, who constantly encouraged me to think creatively and to establish my own unique style in each of my art pieces. With his guidance, I transformed from an inexperienced artist to one knowledgable about figure drawing, shading, and conceptual art. Am Art is truly a great institution— it helped me develop my own creativity and skills, and I highly recommend it to any student pursuing art as either a major or extracurricular activity."
Jim Shenyuan Li
Rhode Island School of Design
Carnegie Mellon University

"Professor Justin Kim had been very helpful throughout the college application season. I could greatly enhanced my Art Portfolio and learned the figure drawing in depth. AMAi has prepared me well for the future research and I am very pleased to be accepted to RISD. I highly recommend the AMAi Art Institute to all students who wish to produce a high-quality portfolio for admission to Art Colleges."
Yeer Jin
Emory University
Art Supplement Program
"Professor Justin Kim, who taught me in the art program, was very helpful and he pointed out the wrong habits in art practice and it is sure that the AMAi's art program structured curriculum was helpful. I studied at AMAi, and I am not satisfied that only one student grows up. I saw many students improved and developed each other, and I am very satisfied that I could produce a high quality portfolio in a healthy atmosphere and could go to the University that I most wanted to go."
David Ha
Vanderbilt University
Art Supplement Program
"At the beginning of my first art class at AMAi, I practiced a lot of things in my head through thumbnails and I made a portfolio by combining basic design with basic ideas. With Professor Justin Kim's excellent leadership, I was able to pass to Vanderbilt University, the university I wanted to enter, and I would definitely recommend it to other students."
Sunghyun Hong
Rhode Island School of Design
Highest Acceptance Honors
"The few years that I was able to study under Justin Kim was an eye-opening experience for me. Even I, who had little to no exposure in the field, managed to quickly grasp the basic techniques required for a fine artist under his tutelage. He pushes students to create abstractions that allow free thinking, giving tips to improve the technical requirements needed to realize these grand ideas. This was especially helpful after entering RISD, which stresses the same kind of ideology. Justin is an excellent teacher, whose own love for art has truly inspired me."
Tina Zuo
Otis College of Art and Design
Highest Acceptance Honors
"As an avid art student, I have had much trial and error in finding an art instructor that not only was a fantastic artist, but also a great instructor. After coming upon Justin's art studio and taking classes with him, I have learned so much in terms of skill, technique, and quality of work. Justin is very patient and his background as an instructor at Otis definitely helped me excel during my first year at Otis College of Art and Design. All of these skills I picked up from Justin's instruction have been essential to my learning during my first year of art college."
Boram Woo
Rhode Island School of Design
Brown Dual Degree Program
"Learning under Justin Kim's guidance has been a very rewarding and valuable experience. I met him as a beginner artist, and through his instruction I was able to improve my art skills tremendously within a short amount of time. Thanks to his stable and through knowledge in the arts, I was able to build a solid foundation that makes me confident that I will be able to do well in the future.
Mindy Kim
Art Center College of Design
International Student, Scholarship
"I am proud of being the student of Justin Kim, whose passion towards art cannot be compared to any other teachers. He gets excited when explaining about what he knows and what he has experienced in his life. Just as within him, there is no doubt that you will be motivated and get power to pursue something that you have been planning for. I wish the best of your future with Justin Kim."